Iconic Newfoundland singer-songwriter, best-selling author, actor, recipient of the Order of Canada … Alan Doyle's list of accomplishments literally goes on and on. Great Big Sea, the beloved band he fronted for two decades, is now retired but Doyle remains busier than ever – which suits him just fine.
Despite Doyle's hectic work schedule, we managed to catch up with him to talk about the value of teamwork, loving what you do, always being prepared and much more.
GO MAGAZINE: You've recorded a few solo albums since Great Big Sea and have also made some investments and own a business. Tell us about these.
ALAN DOYLE: I've owned a production company that administers my live touring and recording for my own concerts and CDs for 20 years or so.  That company also handles my other pursuits as a music producer for other acts, a composer for theatre, films and TV, an actor and public speaker. I have some basic investments in the market and RRSPs as advised by learned pals who do that for a living and the rest of the investments are really in a few rental properties. The separate business is that I am one of the owners of The Inn by Mallard Cottage, an eight-room small hotel in the historic Quidi Vidi region of St. John's. I believe in Newfoundland as a home and as a tourist destination and am excited every time I get a chance to promote it or invest in it.
You recently released a new solo album called A Week at the Warehouse. What were some of the biggest challenges in putting together this new album and how do you find the motivation to keep making and recording new music?
I have never found it difficult to get motivated to make new music. It remains one of the great joys of my life. As ever, the challenges are in scheduling and funding a project like this as I wanted to record it with my live touring band and with renowned producer Bob Rock at the Warehouse Studio in Vancouver. We had about 10 personal schedules and the venue schedule to juggle with until we could get everything lined up. The trick, I suppose, is that when the stars finally align make sure you jump at the chance. Heaven knows it will be gone in a blink if you hesitate.
You've said in the past that Ken Dryden's book The Game was one of the best counsels on teamwork and team building. How has teamwork been important within the context of your time with Great Big Sea, your solo career and businesses?
Much of The Game discusses the Montreal Canadiens in the late 1970s and the challenges they faced as a team. I found it fascinating from the first page because the team was arguably the best in the history of team sports and a fella like me assumed it was all high fives when the dressing room door closed.
I started reading it when Great Big Sea began a tour in Germany after finishing one of our more successful tours in Canada. Both the Habs and Great Big Sea were not trying to find a way to be successful; rather both gangs were trying to find a way to replicate success they'd very recently enjoyed. I found the parallels uncanny. The struggle to understand that winning once does not make you an automatic winner, the importance of game or show time and how it makes the normal clock practically irrelevant and the inevitability of routine yet the critical necessity of it. It led me to one of my pre-show mantras and windup speeches. "It won't get good by itself. It won't be good because we were good last night or because we are usually good. It will only get good if we make it good. So let's go make it good."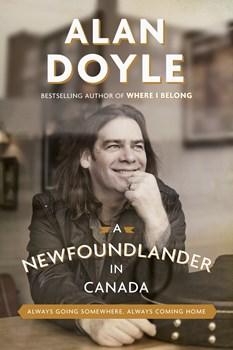 Your new book, A Newfoundlander in Canada, continues the reflections from your first novel on what it was like to venture away from the comforts of Petty Harbour for your first journey with Great Big Sea across Canada. Were there times in those early days where you thought this just isn't going to work and all I want to do is pack it in and go home? How did you remain focused and stick it through?
There were definitely a few early mornings where I wished I could have stayed in bed for longer than three hours, and a few 15-hour drives I wished were 11-hour drives! But I can honestly say there has never been a single moment where I doubted doing this for a living. It was then, and remains an incredible privilege. A person much wiser than me once said, "If you love the work, the work will save you." I still love the work, and it saves me all the time.
You do a keynote speech that focuses on lessons you've learned and "Be Ready" is one of the topics of the chat. Why is this important advice for businesses?
I really learned the importance of always being ready during my first forays into the film world as I lucked into an opportunity to work with Russell Crowe and Cate Blanchett. Along with their incredible talents and work ethic, the one thing I could not help but admire was their readiness. Film is a complicated and layered art form that requires a coordinated effort of people constantly ready to go when the light shines on them. It's true for the grips and the camera ops and the caterers. The last stop, of course, is the on-screen talent and if they aren't ready when someone says "action," a whole lot of work gets undone. I can confidently say that at least one commonality of the greatest actors in the world is that they're the most ready to go to work.
It's easy to take this lesson over to a sports team or a government or a private business. Readiness is something that's never a waste of time, and is practically always rewarded in the end. A business pal of mine says of meetings and negotiations, "You can never count on being the smartest person in the room. That's completely out of your control. But you can be the most prepared person in the room. That's completely in your control."
You possess a remarkable ability to keep reinventing yourself and moving forward as a musician, author, actor, etc. What drives you to keep working so hard?
I'm very lucky to get to do so many different things. And nothing terrifies me like a blank calendar.
Last year, you received the Red Cross Humanitarian Award for your charitable work. Why is philanthropy important to you?
I suppose it's in the DNA in Newfoundland. We, as a people, have always been known for charity and literally being a light in the storm.  As I type, one of the most successful musicals on Broadway right now is about how Newfoundlanders opened their doors to the world on 9/11. I think it's our default position as a people to be generous during the best of times and helpful during the worst of times. As I said in my acceptance speech for the Humanitarian Award, "This is not just who I am. This is who we are."
How did you last purchase insurance? Is there anything you'd like to see changed about the process of buying insurance?
Insurance is all about balance for me. I don't want too much of it, but I want enough of it. Finding that magic line is difficult and I'm grateful to the agents who are eager to chat about thinking outside the box about it. If I could wish for one thing in the business, it's that there were more people on the end of phone lines or emails who were more willing to tailor people's needs individually, and have less of a cookie cutter, or categorized approach to insurance.
Alan Doyle's latest album, A Week at the Warehouse, and book, A Newfoundlander in Canada, came out in October. He'll be touring across North America in 2018 as well. For more information, check out his website here.