As announced at 2017's Fast Forward, we've been collaborating with the Centre for Study of Insurance Operations (CSIO) on the development of My Proof of Insurance, an industry-wide eDelivery platform for sending digital insurance documents, including proof of auto insurance (eSlips), to customers along with their paper copy.
We're happy to announce that Gore Mutual is making eSlips available this month to select brokers through My Proof of Insurance. We caught up with Catherine Smola, President and CEO of CSIO, to learn more about My Proof of Insurance and its benefits to brokers and consumers.
What's the appetite among Canadian consumers to have their proof of auto insurance delivered electronically?
The appetite among Canadian consumers for eSlips, and other digital insurance documents, is quite strong. That is why the My Proof of Insurance platform is able to send both eSlips and PDF policy documents over email, enabling insurers and broker members to provide a digital consumer experience that addresses all aspects of their insurance policy.
Regarding eSlips specifically, in the early stages of this project we examined market data from Forrester Research and found that 45% of Canadians are interested in using them. This was not a surprise, considering how readily they embrace other digital services such as mobile banking. What did surprise us was the fact that 7% of Canadians have already begun to use eSlips, without regulatory approval – even if it's just a photograph of the pink card on their phone.
In January, the Nova Scotia Superintendent of Insurance was the first regulator in Canada to approve the delivery of auto liability cards electronically. We expect more provincial regulators to follow suit shortly and, no doubt, the adoption rate will climb rapidly.
Can you tell us why you chose to use digital wallet technology for My Proof of Insurance versus an app? Please briefly walk us through how it works.
Market research shows that only 4% of Canadians have downloaded an insurance app, and that mobile app installations have decreased by 38% in the past few years. On the other hand, digital wallets are standard technology on many smartphone models, and over 57% of Canadians use digital wallets in their everyday life. Leveraging digital wallet technology was the best choice.
From the customer's perspective, they will receive an email from the My Proof of Insurance platform, co-branded with their insurer and broker logos, containing PDF policy document attachments as well as a link to download their eSlip. When customers click the link on their smartphone, the eSlip will automatically open in their digital wallet where they may also store their credit or debit cards, event tickets, boarding passes and loyalty cards.
The entire customer experience is fast, easy and convenient, designed to work with technologies they have already embraced for everyday use.
Have you found any apprehension with consumers regarding privacy or security? What measures have you taken to make sure that any public privacy concerns have been addressed?
Protecting customer information is a priority, and My Proof of Insurance has been developed with best practices in mind. Part of this is related to the use of digital wallets for eSlips.
All five major Canadian banks trust digital wallets not only to store credit and debit card information, but to process payments as well.
Another measure we've taken is to ensure the platform uses Transport Layer Security (TLS) email encryption to protect messages from being intercepted by malicious third parties. Popular email platforms like Gmail, Yahoo and others use TLS, making My Proof of Insurance available to Canadian consumers everywhere.
We were happy to see Gore Mutual's creative lead, Laurence Smink, invited to help with the My Proof of Insurance brand and design work. What led you to him?
We connected with Gore Mutual's Marketing Team when organizing our presentation for Fast Forward last June where we first publicly announced this project. Working with them was a very positive experience for us, and as the eDelivery platform continued to evolve we sought their feedback by organizing regular communication strategy touchpoints.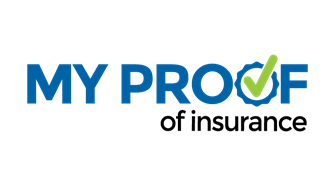 When it came time to design a logo, we wanted to leverage the talent and expertise of the Gore Mutual Marketing Team. Our initial ask was for advice and input, but the Gore Mutual staff truly went above and beyond when Laurence volunteered his time to design some prototype logos. He impressed us with his creative vision, producing a number of concepts for us to share with members. Full credit to Laurence and his design acumen: the project team wound up selecting the very first design he shared with us.
There are a number of insurance carriers and brokers involved with this project. How did they come together and what were some of their roles?
Industry collaboration on this project began with the CSIO board, which consists of members from insurers and brokers across Canada – including Sean Christie, Chief Information Officer at Gore Mutual. As a group, they recognized that there is simply no competitive advantage to each company spending tens of thousands of dollars developing its own digital document customer portal or app. As a result of that discussion, they directed CSIO to develop an industry-wide solution that met the needs of all members, leveraging our role as an industry standards organization.
We worked closely with Gore Mutual and the two other board insurers who stepped forward as early adopters, as well as a number of brokers. This included creating the initial requirements document, which was the project blueprint that defined exactly what functionality and benefits the solution would provide members. As development progressed, members continued to play a key role in testing the solution and reviewing the technical documentation and implementation guides that are provided to users.
The broker and insurer members of the My Proof of Insurance project team were indispensable, helping ensure the development of a platform that truly meets the needs of the broker channel.
Can you share some of the biggest challenges you've had with getting an industry solution off the ground?
Development of the My Proof of Insurance platform has gone remarkably smoothly, and for that I need to give a lot of credit to the brokers and insurers who contributed to our initial requirements document. They provided a detailed and thorough set of expectations for the final platform that enabled us to proceed, confident that we would not have to go back to the drawing board at any point.
How important was it to develop the My Proof of Insurance platform with brokers in mind? How will this solution benefit brokers?
CSIO as an industry organization that represents the entire broker distribution channel, and our mandate from the board was to create an industry-wide solution that benefits all of our members.
For brokers, My Proof of Insurance is a simple, straightforward document delivery solution that enables them to provide the kind of digital experience that customers expect – at no additional cost. It's easy to set up, enables them to co-brand emails sent to their customers, provides detailed message reports right in their BMS, and helps them step up their digital presence with very little effort. Furthermore, My Proof of Insurance can integrate directly with BMS platforms to streamline the user experience for brokers. Broker software vendors have all been provided with the necessary documentation.
What this platform does is allow brokers to speed up and digitize the same procedures they currently use in the paper world, creating a faster and more responsive customer experience.
Do you believe this project has opened up the possibility of broader cooperation between brokers and insurers for the electronic delivery of a suite of insurance services? Are there any plans on the horizon?
One of the most enjoyable aspects of this project has been the high level of cooperation between brokers and insurers. More broadly, it's exciting to see how technology can support them in working more closely together to serve their customers. My Proof of Insurance is just one example, of course, and there are a number of other innovations working their way from the laboratory to the mainstream – blockchain and artificial intelligence are just two examples. Technology isn't done presenting our industry with opportunities to collaborate, and I am excited to see what the future has in store.
To learn more about My Proof of Insurance visit CSIO's broker information and registration website here and consumer website here. Gore Mutual is making eSlips available this month to select brokers. For more information about this, contact your Business Development Manager.