Music was among the first industries to be digitally disrupted. And while this created problems when it became widespread in the early 2000s for record labels and many musicians, for David Usher it opened new opportunities.
As both the frontman for alt-rock band Moist and a solo artist, Usher has sold more than 1.4 million albums and won four Juno Awards. He experienced the impact that MP3 technology and peer-to-peer sharing had on the music industry firsthand and it fascinated him.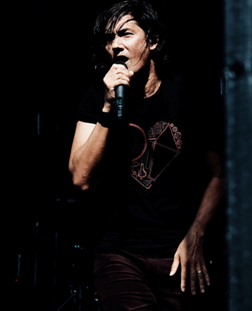 "When digital hit music, it really changed the entire business," he said in an interview with Go Magazine. "And I started getting very interested in why. I was watching the curve of the music business go on a downward spiral, and then the internet rise. I was interested in why these two streams were crossing. That took me down this rabbit hole of learning about the internet and digital."
Choosing to embrace technology and not cling to the past, his new found knowledge sparked ideas that made him want to get much more involved in digital initiatives.
After Twitter launched, he spent five years running a social media integration start-up. And in 2014, he founded the Human Impact Lab at Concordia University – an idea accelerator that uses start-up methodology to bring social impact ideas about issues such as climate change to scale. Last year, he opened his own artificial intelligence (AI) creative studio called Reimagine AI. Based in Montreal, it combines the arts and technology to build experiences using AI and interactive storytelling.
"We're working on a number of things at Reimagine AI," Usher says. "One of our projects is with Google Brain building artificial intelligence assistance that can collaborate with musicians to write song lyrics. That's a project we're doing purely as research because it's experimental and fun. The main thing we're focused on which we're not really talking about that much, is interactive artificial intelligence visualization where we're really studying the interception of AI with interactive technologies, and how that can be visualized."
His work with technology also triggered an interest in examining his creative process. Businesses do a lot of analysis to examine how effective their methods are – why shouldn't artists do the same?
"In the arts you go through a creative process, but very seldom do you really look at the metrics of what's making you win and lose at each stage of the game," Usher says. "What's giving you benefit and what's detracting from your process.
"I started to do a comparison between what creativity is within the arts, and what creativity is within entrepreneurial start-up culture. If you really look at the two side-by-side, they're almost identical and that really sparked something because the creative process is really the same no matter what you're doing or where you are and how you apply it."
These exercises have led to Usher speaking to leading companies such as Google, 3M, Pepsi and more about the benefits of creative success. Drawing on his own experiences from the music industry's digital disruption and his work with artificial intelligence, he teaches people how creativity and innovation can be used as competitive advantages. In a time of exponential change, being creative and thinking outside the box has the potential to open the door to a world of new possibilities.
"Creativity isn't evolution waiting for change to happen," he explains. "It's revolution. You have to break things, you have to get involved. You have to step outside of your comfort zone in order to make those things happen."
Pausing to talk about insurance, he adds, "You're an industry in transition. The music business is a great place to look for what happens to an industry when digital hits a business in a true way. I believe AI is the second phase of that where true transition's going to happen."
David Usher's official website is here.