Many readers likely remember Canadian media trailblazer Denise Donlon from her days at MuchMusic where she helped transform the cultural landscape first as an on-air host and producer before becoming Director of Music Programming, then Vice President and General Manager. Looking for new challenges, she found that and much more as she became the first female President of Sony Music Canada in 2000 during a time of large-scale disruption caused by Napster and digital downloading. In 2008, she took on the role of Executive Director and then General Manager of CBC/Radio-Canada English Radio.
Donlon has received numerous awards and accolades throughout her career. She's won two Gemini Awards, has been inducted into the Canadian Association of Broadcasters Hall of Fame and is a Member of the Order of Canada. In 2009, she was also named one of Canada's Most Powerful Women.
We interviewed Donlon about disruption, resilience, accelerating innovation and the benefits of being over prepared for Go Magazine. Oh, and she talked about insuring some of the great music-related memorabilia she's acquired too! She's got a lot of fantastic insight to share.
GO MAGAZINE: You received the Walt Grealis Special Achievement Award at this year's Juno Awards. It recognizes industry leaders who have vastly contributed to the growth and development of the Canadian music industry. Can you tell us more about this? It seems unbelievable that you were only the second woman to win this award.
DENISE DONLON: Receiving the award was a huge honour, and I truly felt celebrated at this year's Junos. Yes, the numbers for female representation in most businesses are alarming, but I'm hopeful that we're in a time of great change. That the award came during the time of #MeToo and #TimesUp created an opportunity for me to focus on inclusion, diversity and respect in my acceptance speech.
It was a good time to urge the music industry to be bold in their hiring practices because the business is finally recovering from two decades of tremendous upheaval. What better time to look for ways to accelerate innovation, increase profitability and enhance brand equity? There's a mountain of evidence that says that embracing diversity and inclusion can do just that. I recall a recent McKinsey report that said that gender balance could bring an extra $150 billion to Canada's economy in a few short years. Canada is a world leader when it comes to artistic talent. Now is our opportunity to be leaders in equality, respect and inclusivity too.
In your 2016 Fearless as Possible (Under the Circumstances) memoir you talk about learning resilience in the face of power-hungry arrogance and sexism in the music industry. You managed to grow your career – eventually becoming the first female president of Sony Music Canada – despite being in very oppressive environments. What do you attribute that to? What were some of the biggest risks you had to take?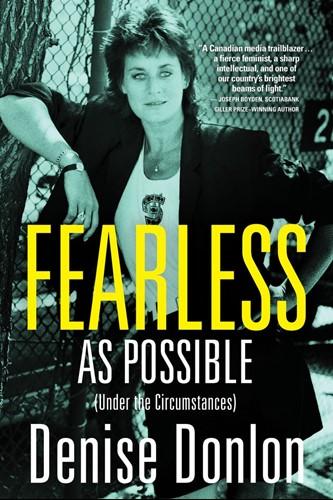 When I was a young woman starting out 40 years ago, I often found myself in extreme environments. Arrogant, sexist behavior was so prevalent as to be "normal". I thought it just went with the territory. It was a tough environment for anyone, but it seemed that women had to work twice as hard to succeed. Luckily we're more than capable.
If there's a positive, it's that I learned resilience from dealing with bullies, and remember with gratitude the times when I was able to find courage by standing up for people and principles I believed in.
In your memoir, you also write about auditioning for music television with some semblance of disbelief and described yourself as "over six-feet tall, with a slight lisp, a gap in my front teeth, and shaky self-confidence." Despite that and having no experience in an emerging medium you ended up building a career in the industry. How did you get through it?
It's true; I was the antithesis of an "on-air personality" and I carried an "imposter syndrome" demon around in my fanny pack. It's that nagging voice that tells you, "You're going to fail", or "People are going to find out you're faking it" even when you've reached heights others might admire. My MO was usually to bury the little devil with busyness. I over prepared for every presentation and over imagined every scenario that might go wrong. It's an exhausting way to build confidence, but if a crisis did happen I was ready because I'd already imagined the worst in my head.
You joined Sony Music at a time of massive disruption and had to steer the company through the crisis of Napster and eventually the digital revolution. What were your thoughts at the time?
Yes, my timing was definitely unfortunate! I became President of Sony Music Canada at the exact time the bottom fell out of the recording industry globally. It was a challenging time for artists and employees because we were trying to re-imagine the future of the business at the same time as we were laying people off. I was a rookie, new to the business and trying to learn fast, but also buoyed by the idea that perhaps a non-insider view could bring some fresh thinking to the crisis.
Having the gift of hindsight, what would you have done differently?  
I'm not sure I would have acted differently. My job was to provide strong leadership to the company in a time of great turmoil, to encourage new ideas and support the brightest talent, and I was proud of the way Sony Music Canada operated. We certainly had our successes. That being said, there were many things the global industry as a whole could have done differently. I dig into the complications of the business – from a failure to innovate to intransigent product offerings – in my book. It's a complex analysis, but let's just say that suing your customers (like what happened in the US) is never a good business strategy! Happily, almost two decades later, the business is turning around. The promised "golden age" for artists in this new digital world hasn't been wholly realized yet – it's harder than ever for most to make a living – but we live in hope.
We're really interested in your work with the Clinton Giustra Enterprise Partnership that brings entrepreneurial solutions to global poverty issues. Can you tell us a bit about the organization and how you got involved?
I was asked to produce an event in Toronto by Vancouver businessmen Frank Giustra and Sam Feldman that would celebrate President Clinton's 60th birthday party, and it was a joy to be involved. It was an impossibly star-studded event with celebrities such as Billy Crystal, James Taylor, Jon Bon Jovi and Sarah McLachlan that raised $21 million in one evening. What I enjoyed learning about the Clinton Foundation was their deep understanding that solutions to some of the world's biggest problems often requires public, private and political cooperation.  And I loved working with staffers who were used to the pace of the West Wing. It was invigorating to say the least!
Given your career we can imagine you must have some really interesting paraphernalia. What's the strangest thing that you've asked to be insured?
That's a fun question; there certainly are some gold album awards, promotional hats, t-shirts and the odd satin tour jacket in the basement. Come to think of it, there are some unusual items. From my desk right now I can see a Celine Dion A New Day has Come alarm clock, a crystal Elton John letter opener, a Joni Mitchell self portrait, a gift from Leonard Cohen and a box of black "Ozzy Rules" Halloween tea light candles – I'm saving them for good.
You have a bit of a reputation for being anti-establishment. How do you buy insurance these days, online or through a broker? Is there anything you'd like changed about the process of buying insurance?
Interesting! I never thought of myself as "anti-establishment" though I do like to push for change when I see a need. As for insurance change, I think it could be less expensive. I have always used a broker for insurance. It's simpler for me and I don't have to sweat the details.  You've got me thinking about those Ozzy candles now though. Do you think I should list them specifically on the household policy?
You can follow Denise Donlon on Twitter here and find more information about her Fearless as Possible (Under the Circumstances) book here.