On March 3, 2018, businesses along Hamilton, Ontario's trendy Locke Street were vandalized by a masked mob of about 30 people who threw rocks through store windows causing an estimated $100,000 worth of damage. The hardest hit location was specialty donut shop Donut Monster, which had only opened its brick and mortar location two months earlier.
It would have been easy to react with anger, but Donut Monster owner Reuben Vanderkwaak responded to the violence by inviting people to come to the shop to talk with their neighbours about keeping peace. The invitation was even extended to those who vandalized the shop – minus the masks and rocks.
Trying to keep things positive, Vanderkwaak even put his own spin on the popular "When life gives you lemons …" proverb by creating a special "Make Lemonade" donut with "glass-like shards of lemon candy" on top. All proceeds were donated to local affordable housing initiatives.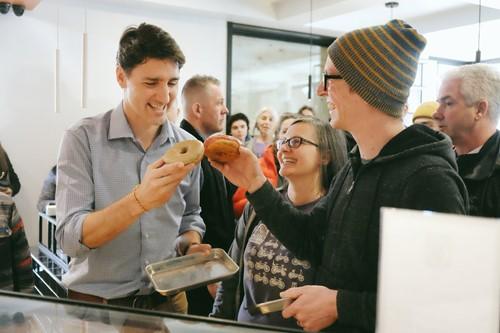 The community quickly rallied around Donut Monster and other impacted businesses, and messages of support came flooding in from newfound fans too. Perrin Beatty, the President and CEO of the Canadian Chamber of Commerce, tweeted an order for 1,000 donuts if Donut Monster could get them to Ottawa. Ontario Premier Kathleen Wynne posted well wishes (with a half-eaten box of Donut Monster donuts) online. And Prime Minister Justin Trudeau even visited the shop for a chai donut.
Although this national attention is new, the love for Donut Monster is not. Initially started as a hobby, Vanderkwaak's unique, from-scratch creations range from filled donuts to supersized apple fritters. Local, fresh ingredients are used for one-of-a-kind flavours – like Roasted Beetroot, for example. He eventually began selling his donuts through local retailers and crowds flocked to wherever they could snag them.
In January, Donut Monster opened its first physical store and it's surpassing all sales projections so far, often selling out of donuts well before closing time. We chatted with Vanderkwaak about Donut Monster's growth, crowdfunding, creative marketing and more.
GO MAGAZINE: What led you down the path to creating Donut Monster?
REUBEN VANDERKWAAK: I was working as a graphic designer in the advertising/marketing industry, and enjoyed the work but not the environment or the way the work got done. I decided to quit my job, and originally my family and I were going to take a year to travel, and then when we got back I would stay home with the kids.
After our trip, I got into home baking and that's where my creative energy started to go. I began baking for community events and bringing samples to local retailers. I started thinking, "What if I could turn this hobby into a mini business?" I needed a side project that I could drive, a creative outlet. So I started to develop the brand behind Donut Monster, and thinking about how to market it. I wasn't interested in making a huge investment or spending long hours trying to sell donuts. I just wanted to make them at night, have someone else sell them and come home and be with the kids. The idea wasn't to make a big profit, just that it would pay for itself.
To get off the ground, you needed a place to cook, which led to the creation of The Kitchen Collective in Hamilton. What was the idea behind that and what were some of the benefits to starting Donut Monster in a collaborative space like that?
I needed a certified, commercial kitchen space to start selling donuts. I'd met a few people in the city with a similar need, and we came together to lease a space and split the cost. I liked the idea of a co-op and that everyone involved has equal say. Once The Kitchen Collective was up and running, Donut Monster was able to start operating commercially.
Donut Monster soon needed its own space. Why did you decide to use Kickstarter to help raise some capital to open the shop?
I used Kickstarter for The Kitchen Collective and for Donut Monster as well. It was a good way to raise a small amount of capital, but I found it was much better as a way to bring people together behind an idea and to market an idea. I didn't want it to be a donation campaign. People were pre-buying something I was already making or planning to make. I saw it as a way to get paid for what I'm doing now, and use that capital now and it worked really well.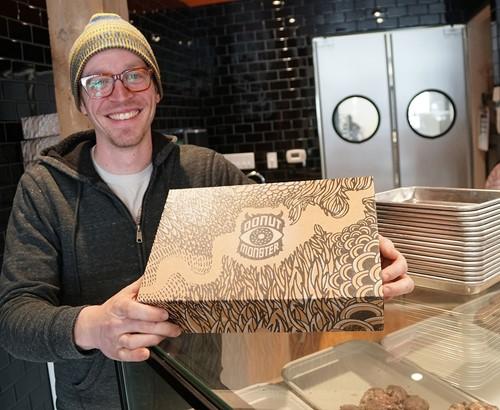 What moved you to be compassionate in your response to the vandalism that occurred on Locke Street, and encourage peaceful discussion?
Part of it is just how my wife and I operate. We're pacifists by nature; we intentionally try to respond with calm and peace in times of anger and aggression.
We recognize that Donut Monster has a voice in the community and an audience through social media. We saw an opportunity and used that voice to respond honestly and the only way we know how, and it impacted the way the community responded. We wanted to be open and encourage people to come to a space where they could process what happened.
We were very intentionally neutral on the political side. Our storefront was a sort of a "ground zero" for the event since it was one of the most intensely affected. I don't think it's a political issue; it's a human issue.
There are people feeling injustice and unfairness about issues such as poverty and gentrification in the city and there's been speculation that this was the reason for the vandalism.
I'm sympathetic to all of those feelings, but I disagree with the way they chose to express them. I care about all the issues they're talking about. That's something that I struggle with: how to run a business and be aware of those issues. I think as a business owner, you need to be conscious of those issues. Being conscious of them allows you to make decisions based around them, instead of just ignoring them. It does cause you to take a step back and think about how you're doing something, be more conscious of how you operate or why you operate.
What was the idea behind the "Make Lemonade" donut?
That was the creativity and marketing background that came out. It was to make light of the situation, to raise people's spirits and to keep the positivity going.
And with the proceeds being used to support affordable housing it was also helping to solve a problem in the city.
You can throw bricks through windows and not have any impact on the issue you're trying to argue, or you can take a positive step towards change that can actually make something happen. You don't need to break something down in order to fix it. We live in this broken system of government, of people, of business, of capitalism; you can't just burn it down and hope for something better to rise up. Change it from the inside somehow. Take a step. Do one thing. If everybody does one little thing, or whatever they can, maybe something better will happen.
What are your future plans?
Evaluate growth as we go, and see where it brings us. I have more choices now about where I want to grow in the future, and I can take some time to figure that out, to slow down and to take a breath.
Donut Monster can be found at 246 Locke St S. in Hamilton. Check them out online here.