There are few things that can hold figure skater Eric Radford back. Overcoming bullying in his youth and countless other challenges throughout his career, he and partner Meagan Duhamel went on to become one of the most decorated Canadian pair teams in history. They've won numerous awards including silver medals as part of the team event at the 2014 Olympics and back-to-back world titles in 2015 and 2016. And last month they closed out their competitive career at the Pyeongchang Olympics by capturing gold medals in the team event and bronze medals in the pairs event.
We spoke with Radford the day after he returned from South Korea, and even though he was jetlagged he still had lots of great insight and advice to share. Proving once again that there's very little this man can't do!
GO MAGAZINE: During the Olympics you announced your retirement from competitive figure skating. Was that a tough decision to make right after winning gold and bronze medals?
ERIC RADFORD: No, it was actually a really easy decision. We kind of decided beforehand that if we had the performances we were hoping for at the Olympics then that would be it. But we also had a bit of a contingency plan that if the Olympics didn't go the way we wanted that we would do the World Championships to give ourselves one last chance to go out on a nice high note. But everything in Pyeongchang went better than we could have hoped, so it was an easy decision to finish our competitive career there.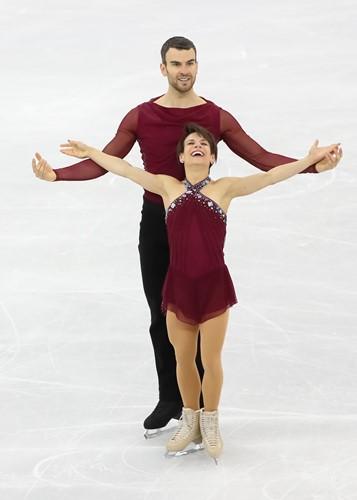 In a recent interview, you said "There was success and there was failure along the way. There were people who didn't believe we could go as far as we believed we could. We never let that stand in our way." Can you tell us about some of the challenges and adversity that you and Meagan had to overcome?
Skating is a subjective sport and sometimes the judges have their own idea of what they want to see. I feel like a theme in Meagan's and my career was that we weren't naturally that dream pair where everything just works easily, there's a romantic love story behind us and our skating styles just match perfectly. I'm really tall, Meagan's very short. I was always more of a lyrical type skater and Meagan was known to be more athletic and feisty and it was a big challenge for us to find the middle ground where we could match our styles and find that perfect synergy between us. And I feel like we really had to prove ourselves harder than other teams did in some ways. We were known to push the technical aspects of our sport, but we had to in order to win. I think other teams didn't need a throw quad or a side-by-side triple lutz in order to win but we did. And so we made it happen.
Was knowing that you always had to prove yourselves ever discouraging or did it act as extra motivation?
I think it was a little bit of both. There are always ups and downs in all aspects of life. In my skating career, in those down moments, I would have times after we won our first bronze medal when I was like "You know what? We won a Worlds bronze medal, maybe that's all Meagan and I are destined to have in skating." And then there were the moments when things were going really well and it was kind of like "There! Take that! We did that throw quad. We made it our own. We do that triple lutz, nobody else can do what we're doing and we went out there and we won our world titles." And I think both Megan and I sometimes surprised ourselves with what we were able to accomplish.
What advice do you have for people who are working to achieve a goal?
Take things in small steps and try to be a little bit better tomorrow than you were today. Over enough time, no matter what you've done, you will have improved and probably taken a step towards your goal. And it's been said a million times, but the other thing is to never give up. I was injured at last year's Worlds and we came seventh after being world champions, and there were so many moments when I truly didn't know if we would ever be as good as we were before. But I just had to keep my head down and just keep on going. And now when I look back I'm like, "Oh, of course we were going to be really good again." Hindsight is 20/20, but when you're in the moment it's really difficult to keep perspective. So no matter what, you can never give up.
In the past, you've also mentioned "having the courage to try." Could you elaborate more on this idea?
It's about pushing through the fear of the unknown and having the courage to try something. Some people get afraid of what might happen, but nobody knows what the future holds. And maybe whatever happens is not going to be what you want, but maybe you'll never end of getting what you truly want because you never took that first step. I moved away from home when I was 13. I just kind of took a leap of faith and followed my heart and my dreams. I made that decision when I was young that this is what I want to do and I want to be the best that I can be at it.
In 2014, you came out publicly as a gay athlete and were the first figure skater to do this at the height of your career. Why was it important for you to use your voice to speak out, inspire others and be a role model for youth and the LGBTQ community?
It was important to me because I had my own struggles when I was younger with bullying and struggling to accept myself and my sexuality. I felt that I was in a position, where I had the ability to set an example and be a role model for others that may be in the position that I was in when I was younger. And I was at a point in my career and in my life where I felt completely comfortable being open about it. I'm lucky that through my success my reach and my voice have become larger and I can make a bigger difference.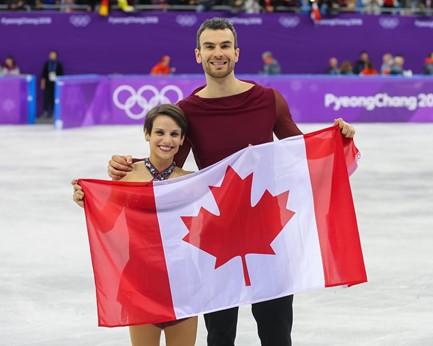 You're an ambassador for the Canadian Olympic Committee's One Team initiative. Can you tell us more about this and how you've been involved?
It's an initiative that pushes inclusion in sports on all fronts – gender, race and especially LGBT – so that all youth have access and feel safe playing and competing in sports. And it raises awareness about LGBT and for LGBT in established sports already. Up until this point, it's been me doing talks at schools about my experiences. I'd like to get more involved in it now that I'm going to have more time and try to expand my reach and do things on larger scales.
I've gotten so much amazing feedback so far from students and from parents who have a child who's struggling with their sexuality or who recently came out to them. I think it just gives them a little bit of reassurance that there's nothing to be afraid of and that their child can have acceptance.
On top of everything else you do, you're also a composer. You've composed music for your own programs and for Patrick Chan's as well. How did the opportunity to have Patrick skate to your music come about?
We were at an event together and there was a grand piano in the lobby of the hotel so I just started playing some of my songs. He was in the middle of a conversation with somebody. His ears kind of perked up and he came over and was like "What are you playing?" I said it was one of my songs and he was like "No way. You have to send this to me. I would love to skate to that!" I kind of thought he was joking, but I sent him a couple of my pieces and my ideas. He chose a few of them and I put them together and wrote the music for his program. My music has been my passion just as long as skating. I actually started both of them at the same time. I haven't had the time to really focus on music the way I have with skating, but it's definitely my new goal to see how far I can go with my music and what I can accomplish in it.
Do you have any concrete plans of what you'd like to do with music?
I'd love to release an album. I'd love to get into composing for film scores, videogames and TV shows too. And I hate to say it out loud, but I had these lofty goals in skating and I achieved most of them, if not all of them. So my new dream is to eventually win an Oscar for Best Original Score.
We would love to see that happen! What other plans do you have for the future?
Meagan and I would love to tour and perform in shows for as long as possible. It's something that we really enjoy doing. And now I think it'll be fun to experiment with our style even more than we got to in competitions. I'm also really interested in the choreography side of figure skating. I'd love to delve into that more. And I also have a wedding to plan! Me and my fiancé are planning on getting married in summer 2019.
Eric Radford and Meagan Duhamel will be performing across Canada from April 27 – May 17 as part of Stars on Ice. Follow Eric on Twitter here and Instagram here.
*Photos by Greg Koltz, Skate Canada