Renowned British folk-punk troubadour Frank Turner has never shied from the concept of reinvention. Coupled with his tireless work ethic and compassion for others, he continues to make his mark and grow his brand.
After playing in a post-hardcore band in the early 2000s, in 2005 Turner looked to create new opportunities for himself as a folk singer-songwriter – something few who knew his previous output would have predicted. Turner believes in doing the unexpected, which he acknowledges can be challenging but feels is necessary to grow.
"As an artist, I have not only an opportunity but also a responsibility to change and evolve," he said in an interview with Go Magazine.
His switch in musical style and decision to become a solo artist – which meant the business tasks previously shared between all the members of his old group were now solely his own – created a very steep learning curve. But the risks Turner took ultimately proved to be the right ones. Since 2007, he's released seven acclaimed albums, has won a number of awards, toured around the world playing more than 2200 concerts, performed as part of the London Olympic opening ceremonies, written a best-selling autobiography, created his own festival and more. All of these achievements have caused some to label Turner the "hardest working man in rock."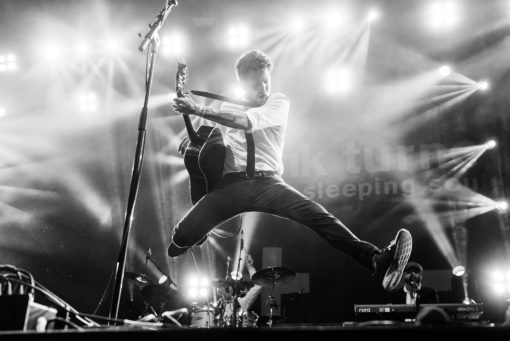 What motivates him to keep working so hard?
"In general, I'm just quite an active, driven person," he says. "I don't get exhausted much at the end of one creative moment, I'm just kind of ready to keep going. And it helps that there are 24 hours in any given day!"
Despite his often hectic schedule, Turner puts a big emphasis on being accessible. He used to spend hours after his concerts shaking hands, chatting with people and taking pictures. And while that's proven to be more challenging to do as his popularity increases and shows become bigger and bigger, he still shares his email address publicly and responds to everyone that reaches out to him. He's also active on social media, using it to stay in touch with his community in a genuine way. Turner feels a sense of responsibility as social media provides people with a global voice but too many use it without any sense of consequence.
Giving back to the community is a priority for him as well and he's supported countless charities and grassroots organizations throughout his career.
"I have a platform in life and I can use that attention as I see fit," he says. "Of course, I use it sometimes to promote my art and my career, but there's plenty of time and space to try and turn that influence towards something bigger and more important than that."
The idea of helping others and being kind carries over to the title of Turner's most recent record, Be More Kind. Released earlier this year, the album sees Turner continuing to evolve in order to remain relevant.
"It can always be a challenge to keep things fresh and interesting, that was my central preoccupation – not to repeat myself, to find new things to say and new ways of saying them," he says. "I'm pleased with how far I pushed myself out of my comfort zone on this one. Working through the new approaches I was playing with was challenging at times for sure."
When taking risks and trying new things, does he have any fear of failure?
"Yes, of course, all the time. But that fear is a sign you're doing something worthwhile."
Before wrapping up our interview, we wanted to ask Turner an insurance question. Given his career and travels around world, has he collected any interesting paraphernalia that he's asked to be insured?
"I have a few possessions that mean a lot to me – Loudon Wainwright III's guitar and some old, vintage tattoo books for example, but I try not to be overly materialistic in life. I do have that stuff insured though!"
Frank Turner is currently in the midst of a Canadian tour. You can see where he'll be performing on his official website here.